Ken(season 1 - present) – Ken is Barbie's long-time boyfriend.Ken strives to be the perfect boyfriend for Barbie and is always there when Barbie needs him. He is an inventor who makes high-end machines and gadgets for Barbie to use (though they usually end up malfunctioning).Ken is voiced by Sean Hankinson.

The best boyfriend in the world, he wants to be the best guy to the perfect gal, but hasn't quite got the perfection thing down the way Barbie does. He loves creating new crazy gadgets to make her life easier, but sometime they do the opposite. Though his over-eagerness to please leads to some mishaps, his heart is always beating Ba-Ba, Ba-Ba Barbie.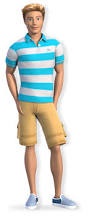 Relationships
Edit
Barbie:Girlfriend Skipper:Tech-friend Stacie:Sporty-friend Chelsea:Playful-friend Raquelle:Friend(But Raquelle does not feel that way.) Ryan:Enemy Terresa:Friend Nikki:Friend
Did You Know?
Edit
When Ken sees puppies he will go Cutatonic. Watch Plethora of Puppies [[1]]